SHOWS
OUR BANDS CRUSADE!

WARRANT
28.12.2013:
Black Sabbath (Rock-Musik-Club) - Bad Oeynhausen
08.03.2014:
German SwordBrothers-Lünen


IRON FATE
04.04.2014:
From Hell - Erfurt
05.04.2014:
Kuttenfest-Dresden
What is SwordBrothers Productions?

SwordBrothers Productions is a part of mighty Swordbrothers Festival and is also a promotion & bookings agency for Rock, Hard rock & Heavy Metal bands all over the world.

The primary goal is to promote, assisting & introduce the bands in there promotion worldwide.

SwordBrothers Productions also do bookings of concerts & festivals in Europe for bands who are working with SwordBrothers Productions!

SwordBrothers Productions will send folder & cd sets with all bands to clubs & festivals for showcasing which bands SwordBrothers Productions has available.

Clubs & festivals are free to ask for full info package about bands and also several packages can be arranged.

SwordBrothers Productions can coordinate interviews & reviews for your product in magazines and webzines worldwide and make sure that bands always have the attention from the media, this in consultation with the band.
So if you think some news or else must be spread, dont hesitate to mail. We work with many web and magazines all over the world.
SwordBrothers Productions will need at every time all possible info for the website as concerts, news, new album, etc.

SwordBrothers Productions will work very close with all bands, so we can give much update as possible on the website and media if necessary.

Notice!

We are not working with bands that are not on SwordBrothers Productions for single shows!!!
If you are interested in complete tours, send me a request about it.

Kind regards
Volker Raabe

Adress for sending Promomaterial:

SwordBrothers Productions
Glockenweg 6
59553 Halver (Germany)

volker@swordbrothers.de

Phone: 0171-3537626


TOURS
WE ARE INVOLVED!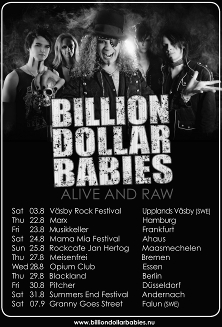 22 Aug 2013:
Marx (Markthalle), Hamburg
23 Aug 2013:
Musikkeller, Frankfurt
24 Aug 2013:
Mamma Mia Festival, Ahaus
27 Aug 2013:
Meisenfrei, Bremen
28 Aug 2013:
Opium Club, Essen
29 Aug 2013:
Blacklands, Berlin
30 Aug 2013:
Pitcher, Düsseldorf
31 Aug 2013:
Summers End Open Air, Andernach